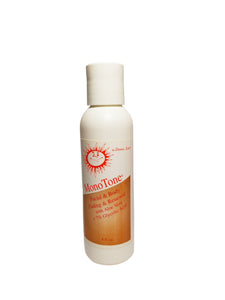 Mono Tone Derma-Life 4oz
Facial & Body Renewal Lotion with Aloe Vera + 7% Glycolic Acid. Exfoliates, Softens and renews the youthful appearance of skin.
Directions:
Apply directly on the dark pigmentation and rub it into the dermis until the lotion is absorbed. Use every day for best results. Can Helps or may to: The dark pigmentation start to lighten in four to 6 weeks, continue to use as needed. For best results use Derma-Life Skincare formula after applying Monotone.
Warning:
Excessive use of this product will cause the product to peel. Stinging will occur for a few minutes if applied to raw skin or raw nerve endings. If irritation persists, wash skin with soap and water. Always consult a physician as needed.
Ingredients:
Aloe Vera Gel, Purified water, Glycolic acid 7%, Cetyl Alcohol, Panthenol B5, Vitamins A, E, C, and Free Fatty Acids.
No Animal Testing
Espanol:
Facial y corporal Renovación loción con Aloe Vera. Exfolia, suaviza y renueva la apariencia juvenil de la piel.
Direcciones:
Aplicar directamente sobre TH pigmentación oscura y frotar en la dermis hasta que se absorba la loción. Utilizar todos los días para obtener los mejores resultados. La pigmentación oscura comenzará a aligerar en cuatro a 6 semanas, seguir utilizando, según sea necesario. Para obtener los mejores resultados utilizar la fórmula Derma-Life cuidado de la piel después de aplicar monótono.
Advertencia:
El uso excesivo de este producto hará que el producto a pelar. Escozor ocurrirá durante unos minutos si se aplica a la piel cruda o nedings nerviosas primas. Si persiste la irritación, lavar la piel con agua y jabón. Siempre consulte a un médico cuando sea necesario.
Ingredientes:
Gel de Aloe Vera, agua purificada, ácido glicólico 7%, alcohol cetílico, pantenol B5, vitaminas A, E, C y ácidos grasos libres.
Sin pruebas en animals
Size 4 oz