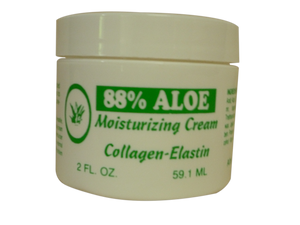 Aloe Vera Face Cream Collagen – Elastin
Aloe Vera Face Cream Collagen – Elastin 88%

2 OZ
Aloe Vera has been found in Egyptian tombs from 4000 B.C. and we are still using the products today.
Directions: Moisturizer cream is a versatile, skin- loving emollient cream. It is the ultimate beauty cream for face, forehead, neck, and around the eyes. Moisturizer cream should also be used to supplement the bio-dermal action of aloe vera all-purpose gel on extreme problem areas.
INGREDIENTS: ALOE VERA, PROPLENE GLYCOL; STEANC ACID, ADOL 52; CARBOPOL; SORBITOL 70; LIP - O - SORB 80; GLYCERIN; ISOPROPYL MYRISTATE; ALVOCADO OIL; LECITHIN;; TRIETHANOLAMINE; WHEAT GERM OIL; COLLAGEN; ELASTIN; BEESWAX; JOJOBA OIL; METHYL PARABEN; ALLATONIN; PROPYL PARABEN; PROTIEN; FRAGRANCE; QUATERNIUM - 15, BHA; LANOLIN ALCOHOL, VITAMIN E; VITAMIN A; VITAMIN D.