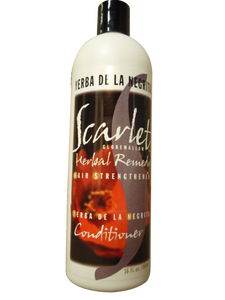 Scarlet Globemallow Conditioner YERBA DE LA NEGRITA Original
ORIGINAL FORMULA SINCE 1981
Want thicker shinier hair, have damaged hair, loosing hair?
For centuries native americans of the southwest have used the extract of yerba de la negrita (scarlet globemallow) to strenghten and thicken hair. The ancient power of this herb is now availiable in this modern formula.
This naturally rich conditioner is infused with special herbal extracts which will add strength and volume to your hair while adding smoothness and shine.
Directions:
Massage a moderate amount of instant shine conditioner into damp hair. For best results, allow 2-5 minutes set time to penetrate and condition hair from roots to ends. Rinse well and style. Leave in if desired for extra conditioning. For ultimate body and shine, use scarlet globemallow shampoo and experience the natural nourishment mother earth intended for hair.
Ingerdients:
Water infused with scarlet globemallow (yerba de la negrita) , cetearyl alcohol, stearalkonium chloride, peg – 40, castor oil, stearamidopropyl dimethylamine, propylene glycol, dimethicone, jojoba oil, yucca extract, awapuhi extract, eucalyptus extract, fragrance, diazolidinyl urea, iodoprynyl butylcarbamate.
Made in new mexico
Trademarked for our yerba de la negrita tm( scarlet globe mallow tm) shampoo, conditioner, and concentrate products
Fórmula original desde 1981
QUIERO MÁS GRUESO más brillante cabello, han dañado cabello, pelo perdiendo?
POR SIGLOS los nativos americanos del SUDOESTE han utilizado el EXTRACTO DE YERBA DE LA NEGRITA (SCARLET Globemallow) PARA FORTALECER Y engrosar el cabello. Antiguo poder de esta hierba es AHORA availiable en esta fórmula moderna.
Este acondicionador naturalmente rico es infundida con extractos de hierbas especiales que fortalecen y se volumen a tu cabello al tiempo que añade suavidad y brillo.
DIRECCIONES:
MASAJE una cantidad moderada de acondicionador brillo instantáneo en el cabello húmedo. Para mejores resultados, PERMITEN 2-5 minutos Establecer hora para penetrar y acondicionar el cabello de raíz a puntas. Enjuague bien y estilo. DEJE EN si se desea para acondicionamiento extra. Por último el cuerpo y brillo, USO ESCARLATA Globemallow CHAMPÚ Y EXPERIENCIA NATURAL ALIMENTACIÓN DE LA MADRE TIERRA PREVISTO PARA EL PELO.
INGERDIENTES:
Infusión de agua de púrpura Globemallow (YERBA DE LA NEGRITA), alcohol cetearílico, cloruro de estearalconio, PEG - 40, aceite de ricino, estearamidopropildimetilcetearilamonio dimetilamina, propilenglicol, dimeticona, ACEITE DE JOJOBA, extracto de yuca, extracto de awapuhi, extracto de eucalipto, FRAGANCIA, diazolidinilurea, IODOPRYNYL butilo.
HECHO EN NUEVO MEXICO
Marca registrada PARA NUESTROS YERBA DE LA NEGRITA (TM ESCARLATA GLOBE MALVA TM) champú, acondicionador y productos concentrados