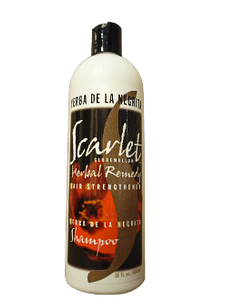 Scarlet Globemallow YERBA DE LA NEGRITA Shampoo Original
ORIGINAL FORMULA SINCE 1981
Want thicker shinier hair, have damaged hair, loosing hair?
For centuries Native Americans of the southwest have used the extract of Yerba de la Negrita (Scarlet Globemallow) to strengthen and thicken hair. The ancient power of this herb is now available in this modern formula.
The rich lather of this natural shampoo is infused with special herbal extracts which will invigorate your scalp as it gently cleans. Daily use will help strengthen hair, build volume and enhance color while adding a healthy shine.
DIRECTIONS:
Use an ample amount of Shampoo and work up a full lather. Rinse well and repeat as necessary. Use Scarlet Globemallow Conditioner to make hair more manageable.
INGREDIENTS:
Water infused with Scarlet Globemallow ( Yerba De La Negrita ), Ammonium Lauryl Sulfate, Ammonium Laureth Sulfate, Cocamidopropyl Betaine, Cocamide DEA, Olive Oil, Propylene Glycol, Yucca Extract, Awapuhi Extract, Sodium Chloride, Fragrance, Diazolidinyl Urea, Iodopropynyl Butylcarbamate.
TRADEMARKED FOR OUR YERBA DE LA NEGRITA TM( SCARLET GLOBE MALLOW TM) SHAMPOO, CONDITIONER, AND CONCENTRATE PRODUCTS
MADE IN NEW MEXICO
Español:
Fórmula original desde 1981
¿Quieres más grueso pelo más brillante, han dañado el pelo, pelo perdiendo?
Durante siglos, los nativos americanos del suroeste han utilizado el extracto de Yerba de la Negrita (Scarlet Globemallow) para fortalecer y engrosar el cabello. El antiguo poder de esta hierba es ahora disponible en esta fórmula moderna.
La espuma rica de este champú natural es infundida con extractos de hierbas especiales que van a vigorizar el cuero cabelludo, ya que limpia suavemente. El uso diario le ayudará a fortalecer el cabello, aumentar el volumen y mejorar el color al tiempo que añade un brillo saludable.
DIRECCIONES:
Utilice una amplia cantidad de champú y hacer espuma completa. Enjuague bien y repita si es necesario. Usar Scarlet Globemallow Acondicionador para hacer que el cabello sea más manejable.
INGREDIENTES:
El agua infundida con Scarlet Globemallow (Yerba De La Negrita), amonio lauril sulfato, sulfato de amonio Laureth, Cocamidopropilbetaína, cocamida DEA, aceite de oliva, propilenglicol, yuca, extracto de Awapuhi, Cloruro de Sodio, Fragancia, Diazolidinilo urea, butilcarbamato de yodopropinilo.
Marca registrada PARA NUESTROS YERBA DE LA NEGRITA (TM ESCARLATA GLOBE MALVA TM) champú, acondicionador y productos concentrados
HECHO EN NUEVO MEXICO