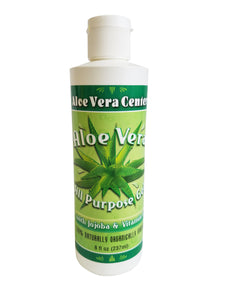 Aloe Vera Gel All Purpose
8oz
97% aloe Vera All-Purpose Gel With Jojoba and Vitamin E
Aloe Vera has been found in Egyptian tombs from 4000 B.C. and we are still using the products today.
Directions for use: Aloe Vera gel uses consist of can, helps or may to: burns cuts, wounds, hemorrhoids, psoriasis, scar removal and acne. Aloe promotes cell regeneration by reducing the amount of stiffness and peeling and thus reducing scarring.
Ingredients: Aloe Barbadensis Leaf Juice, Propylene Glycol, Hydrogenated castor Oil, PEG-60, Triethanolamine, Carbomer, Witch Hazel, Fragrance, Simmondsia, Chinensis (Jojoba) Seed Oil, Allantoin, Panthenol, Tocopherol Acetate, Methylchloroisothiazolinone, Methylisothiazolinone, Vitamin A, Vitamin E.