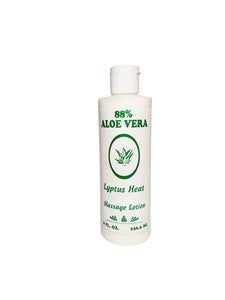 Aloe Vera Lyptus Heat Massage Lotion
DIRECTIONS FOR USE:
Aloe Vera heat-o-lyptus massage lotion is great before and after workouts, sports, and strenuous physical activity. The soothing, calming, relaxing warmth is conducive to sleep when applied at bedtime to chest, back, neck, and shoulders. Also, moisturizes, soothes, and revitalizes tired or dry feet, ankles, knees, and elbows. May be applied several times daily as desired to increase personal comfort.
INGREDIENTS: ALOE VERA, STEARIC ACID, GLYCERIN, PROPYLENE GLYCOL, CARBOMER-940, CETYL ALCOHOL, TRIETHANOLAMINE, CORN OIL, SOYBEAN OIL, EUCALYPTUS OIL, METHYL PARABEN, CAMPHOR, JOJOBA OIL, MENTHYL SALICYLATE, POLYSORBATE 80, TETRASODIUM EDTA, ALLANTOIN, D-1 PANTHENOL, MENTHOL, VITAMIN A, VITAMIN D, VITAMIN E.
***These statements have not been evaluated by the Food and Drug Administration. These products are not intended to diagnose, treat, cure or prevent any disease. Consult your own health care professional before taking vitamins, nutritional & dietary supplements, or starting a new regime, especially if you have a disorder, are on medication, pregnant or breast feeding. These supplements should not be used to replace sensible healthy lifestyle principles, such as healthy eating & drinking, sleep, exercise, relaxation, stress reduction & fresh air.