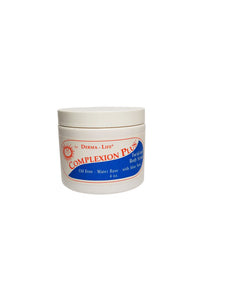 Derma-Life Complexion Plus Facial and Body Scrub
Complexion Plus® Facial and Body Scrub
Face and Body Scrub. Deep Cleans and improves complexion. Exfoliates dead skin cells and smoothes rough skin.
Complexion Plus® Facial and Body Scrub
Directions:
Lather In wet hands, apply to wet skin, scrub lightly for 30-45 seconds, rinse with warm water, and dry skin. For best results use DERMA-LIFE® Skin Care Formula after using the scrub.
Healing the dermis the old fashioned way — with natural ingredients.
Derma-Life® Skin Care Formula is a very unique formulation of natural ingredients with a cold pressed Aloe Vera base that totally absorbs into the dermis carrying the vitamin rich ingredients deep into the skin. With its synergistic effects Derma-Life® Skin Care Formula helps heal most topical skin ailments such as acne, rash, diaper rash, sunburn, thermal burns, road rash, bee stings, scrapes, bruises and much more. Over the years Derma-Life® has completed many (anecdotal) studies on most common skin problems. As a result we have found this formula is very successful in controlling and healing topical skin ailments. We know of no other product on the market that can compare with Derma-Life® Skin Care Formula.
***These statements have not been evaluated by the Food and Drug Administration. These products are not intended to diagnose, treat, cure or prevent any disease. Consult your own health care professional before taking vitamins, nutritional & dietary supplements, or starting a new regime, especially if you have a disorder, are on medication, pregnant or breast feeding. These supplements should not be used to replace sensible healthy lifestyle principles, such as healthy eating & drinking, sleep, exercise, relaxation, stress reduction & fresh air.
Ingredients:
Water, Processed Rice Shells, Vegetable Silica, Aloe Vera Gel, Coco Extract, Saponaria Extract (Soap Bark), Citric Acid.
Warning:
If this product is used with excessive pressure, abrasion could occur. Avoid contact with eyes. Flush with water for 15 seconds if eyes come in contact.
Español:
Plus® complexión facial y Body Scrub
Cara y Cuerpo Scrub. Limpia profundamente y mejora la tez. Exfolia las células muertas de la piel y suaviza la piel áspera.
Plus® complexión facial y Body Scrub
Direcciones:
En las manos mojadas espuma, aplicar sobre la piel húmeda, frote suavemente durante 30-45 segundos, enjuague con agua tibia, y piel seca. Para obtener los mejores resultados usar Derma-LIFE® Fórmula Cuidado de la piel después de usar el exfoliante.
Derma-Life ® Fórmula cuidado de la piel es una formulación única de ingredientes naturales con una base de prensado en frío de Aloe Vera que absorbe totalmente en la dermis que transportan las vitaminas ricos ingredientes profundamente en la piel. Con su efectos sinérgicos Derma-Life ® Fórmula Cuidado de la piel se cura la mayoría de las enfermedades de la piel tópicos tales como el acné, erupción cutánea, dermatitis del pañal, quemaduras solares, quemaduras térmicas, la erupción del camino, las picaduras de abeja, rasguños, moretones y mucho más. A través de los años Derma-Life ® ha completado muchos estudios (anecdóticos) en la mayoría de los problemas comunes de la piel. Como resultado, hemos encontrado esta fórmula es muy exitoso en el control y la curación de las dolencias de la piel tópicas. No sabemos de ningún otro producto en el mercado que pueda compararse con Derma-Life ® Fórmula cuidado de la piel.
Ingredientes:
Agua, cáscaras de arroz elaborado, sílice vegetal, Gel de Aloe Vera, extracto de coco, extracto de saponaria (Jabón Bark), ácido cítrico.
Advertencia:
Si este producto se utiliza con una presión excesiva, podría producirse la abrasión. Evitar contacto visual. Enjuague con agua durante 15 segundos si los ojos entran en contacto.
***Estas declaraciones no han sido evaluadas por la Administración de Alimentos y Drogas. Estos productos no están destinados para diagnosticar, tratar, curar o prevenir ninguna enfermedad. Consulte a su propio profesional de la salud antes de tomar vitaminas, suplementos nutricionales y dietéticos, o iniciar un nuevo régimen, especialmente si usted tiene un trastorno, están en la medicación de alimentación, o embarazada. Estos suplementos no deben ser utilizados para reemplazar los principios de vida saludables sensibles, tales como la alimentación saludable y la bebida, sueño, ejercicio, relajación, reducción del estrés y el aire fresco.