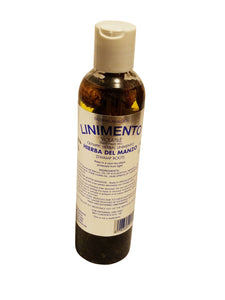 Linimento Oil Yerba Del Manzo ( Swamp Root) Massage Oil
Yerba del Manzo (swamp root) Massage Oil
Hierba Del Manzo
For relief and to help soothe sore muscles due to over exertion or sports aches, help soothe arthritis pain and pains that can be reached by massage external application.
Directions: Apply to affected parts massaging gently. For gentle message.
For External Use Only
This is not a medication.
KEEP OUT OF THE REACH OF CHILDREN
Ingredients: Whole Swamp Root Herb (Yerba Del Manzo), Oil of Eucalyptus, Menthol Crystals, Oil of Wintergreen, Pure Corn Oil, Natural Pure Gum Sprits of Turpentine. Annatto Seed Oil.
******These statements have not been evaluated by the Food and Drug Administration. These products are not intended to diagnose, treat, cure or prevent any disease. Consult your own health care professional before taking vitamins, nutritional & dietary supplements, or starting a new regime, especially if you have a disorder, are on medication, pregnant or breast feeding. These supplements should not be used to replace sensible healthy lifestyle principles, such as healthy eating & drinking, sleep, exercise, relaxation, stress reduction & fresh air.