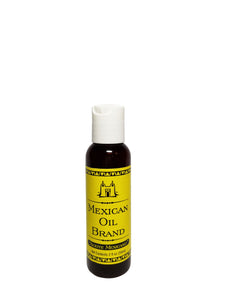 Mexican Oil
Mexican oil has been used for a hundred years for all your aches and pains. Using this solution sparingly on desired area will help sooth your ailments.
MEXICAN OIL BRAND
ACEITE MEXICANO
2 FLUID OUNCES
DIRECTIONS:
EXTERNAL USE ONLY. APPLY FREELY EVERY 3-4 HOURS AND REPEAT IF NECESSARY.FOR TEMPORARY RELIEF OF DISCOMFORT DUE TO MINOR BURNS, SUNBURN, CHAPPED SKIN, AND NON POISONOUS INSECT BITES, MUSCULAR ACHES AND PAINS, DUE TO OVER EXERTION AN FATIGUE.
ACTIVE INGREDIENTS:
ALCOHOL 66%, RHUBARB, CARDAMON, CAPSICUM, STAR ANISE, CAMPHOR, PEPPERMINT OIL AND GLYCERIN.
CAUTION:
DO NOT APPLY TO IRRITATED SKIN OR IF EXCESSIVE IRRITATION DEVELOPS. AVOID GETTING INTO EYES OR ON MUCOUS MEMBRANES.
KEEP OUT OF THE REACH OF CHILDREN
******These statements have not been evaluated by the Food and Drug Administration. These products are not intended to diagnose, treat, cure or prevent any disease. Consult your own health care professional before taking vitamins, nutritional & dietary supplements, or starting a new regime, especially if you have a disorder, are on medication, pregnant or breast feeding. These supplements should not be used to replace sensible healthy lifestyle principles, such as healthy eating & drinking, sleep, exercise, relaxation, stress reduction & fresh air.
Español:
External Uso: Aplicar libremente cada 3 a 4 horas y repita si es necesario para el alivio temporal de las molestias debido a las quemaduras menores, quemaduras de sol, piel agrietada y picaduras de insectos no venenosos, dolores musculares, debido al esfuerzo largo y fatiga.
Precaución: No aplicar sobre la piel irritada o si devolops irritación excesiva. Evite el contacto con los ojos o en las membranas mucosas.
***Estas declaraciones no han sido evaluadas por la Administración de Alimentos y Drogas. Estos productos no están destinados para diagnosticar, tratar, curar o prevenir ninguna enfermedad. Consulte a su propio profesional de la salud antes de tomar vitaminas, suplementos nutricionales y dietéticos, o iniciar un nuevo régimen, especialmente si usted tiene un trastorno, están en la medicación de alimentación, o embarazada. Estos suplementos no deben ser utilizados para reemplazar los principios de vida saludables sensibles, tales como la alimentación saludable y la bebida, sueño, ejercicio, relajación, reducción del estrés y el aire fresco.
Size: 2 oz