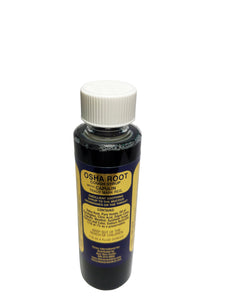 Osha Syrup W Wild Cherry Bark Capulin
HOMEOPATHIC HERBAL NATURAL REMEDY
4 OZ
EMOLLIENT SOOTHING SYRUP TO THE MUCOUS MEMBRANES OR THROAT
HELP SOOTHE EASE COUGHING
Osha, or Ligusticum porteri, (also called bear root) is an important perennial herb that inhabits the dry, upland meadows and ravines of the Rocky Mountain. The beneficial part of the osha plant is the root, which has long been used and considered sacred by Native Americans to help soothe cold, cough, and other respiratory ailments. The root contains oils, including camphor, saponins, ferulic acid, terpenes, and phytosterols. Because of the range of mechanisms it has, osha root is, arguably, the best American herb for lung and throat problems.
INGREDIENTS: OSHA ROOT, PURE HONEY, OIL OF EUCALYPTUS, CITRIC ACID, SUGAR CANE, CAPULIN (WILD CHERRY BARK) , MENTHOL, NATURAL GRAPE EXTRACT AND COLOR, SODIUM BENZOATE 1/10 AS A PRESERVATIVE.
DOSE:
 INFANTS 5 DROPS EVERY HOUR
 CHILDREN 1/2 TEASPOON EVERY HOUR
 ADULTS 1-3 TEASPOONS EVERY HOUR
*****THIS IS A HOMEOPATHIC HERBAL REMEDY
*****THIS IS NOT A MEDICATION OR DRUG
*****THIS IS NOT USED TO CURE ANY COLDS , FLU OR DISEASE
KEEP OUT OF THE REACH OF CHILDREN
******These statements have not been evaluated by the Food and Drug Administration. These products are not intended to diagnose, treat, cure or prevent any disease. Consult your own health care professional before taking vitamins, nutritional & dietary supplements, or starting a new regime, especially if you have a disorder, are on medication, pregnant or breast feeding. These supplements should not be used to replace sensible healthy lifestyle principles, such as healthy eating & drinking, sleep, exercise, relaxation, stress reduction & fresh air.